Come 'home' to your premier hotel destination while visiting Gros Morne National Park.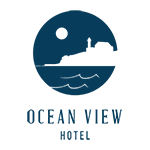 The Ocean View Hotel is located ½ km off Route 430 (The Viking Trail), on the picturesque waterfront of beautiful Rocky Harbour.
38 Main St. S, Rocky Harbour, NL A0K-4N0
Place yourself in the heart of Gros Morne National Park with a stay at it's premier oceanfront hotel.
Nestled in the quietly beautiful town of Rocky Harbour, the Ocean View Hotel is just a stone's throw from our Park's many cultural, natural and historical attractions.
Total number of parking meters in Gros Morne = 0
Total number of traffic lights in Gros Morne = 0
Total number of moose in Gros Morne = 5000 approx.
(so please drive carefully!)
The Gros Morne region is serviced by Deer Lake Regional Airport (code YDF).
This airport is approximately 45 minutes from the centre of Gros Morne National Park.
Groups flying to Deer Lake can travel via:
Transportation from the airport
Transportation to the Ocean View can be arranged with Pittman's Taxi by calling (709)458-2201.
It's easy to access Gros Morne, no matter where on the island your journey begins. Hop in your vehicle and enjoy awe-inspiring scenic drives, taking in the beauty of our province's craggy coastlines, on your way to a warming welcome at the Ocean View Hotel.
From Deer Lake Airport:
Take a right at the Trans Canada Highway when exiting the airport
Drive ½ km and turn right onto exit 16 to Route 430 North (Viking Trail)
Drive 40 km to Wiltondale (Gros Morne National Park gateway)
If your destination is Rocky Harbour, Norris Point, St. Paul's or Cow Head, continue north 32 km
If your destination is Lomond, Woody Point, Glenburnie or Trout River, turn left at Wiltondale (gateway)
From St. John's:
Drive west until you reach Deer Lake
Turn right onto exit 16 to Route 430 (Viking Trail)
Follow directions as above
From Port aux Basques ferry terminal:
Drive east to Deer Lake
Turn right onto exit 16 to Route 430 (Viking Trail)
Rental cars available at Deer Lake Airport

Telephone: 1-709-635-4667
After Hours: 1-709-635-4668
Worldwide: 1-800-736-8222
enterprise.com
Find Your Drive.
Explore the world's largest car sharing marketplace now available in Newfoundland and Labrador