The Finest Musical Experience In Gros Morne
No Newfoundland experience would be complete without the music and wit of a group of local performers, and Anchors Aweigh is the very best the Gros Morne region has to offer.
For many visitors, a leisurely stroll to The Anchor Pub in Rocky Harbour is a defining moment of their trip. Here every  Wednesday and Friday night during the summer, a group of five local performers gets together to entertain tourists and locals alike with a rousing three-hour show.
Filled with renditions of popular Newfoundland and Labrador songs, and sprinkled with wit and one-liners, the show has become one of the best attended in the whole province. Almost by accident, and practically overnight, the Anchors Aweigh band has found its way onto the list of 'things to do' for local residents and visitors alike.
Our tickets sell out fast! We recommend reserving your tickets in advance.
Avoid disappointment and PRE-BOOK TODAY! Call 1-888-458-2016 or visit www.bontours.ca/anchors-aweigh
Show starts at 8 p.m.
Tickets $40 tax in
Ages 19 and over
Top tip: Arrive 1-2 hours early for premium show seating and take advantage of our delectable Anchor Pub menu!
Book EARLY as we sell out quick.
Done for season 2021, book now for season 2022!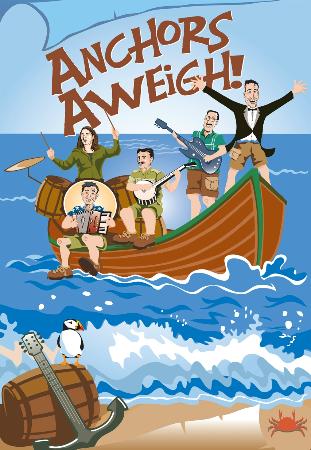 Anchors Aweigh Live In Action